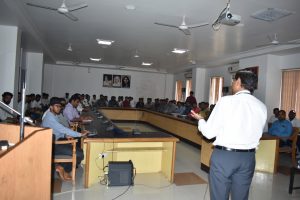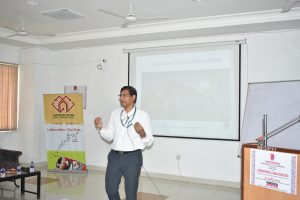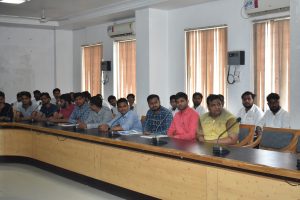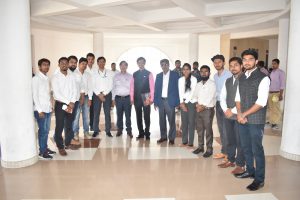 GUEST LECTURE SUMMARY REPORT
Type of event:                        Guest Lecture
Topic:                                    "Lucknow Metro, A dream come true"
(Discussion on various aspects of civil engineering in Metro Construction)
Speaker:                                 Mr.  Sushil Kumar
Organised by:                        Civil Engineering
Date:                                       4th April 2019
Attended By:                         3rd Year B.Tech&M.Tech 1st Year students of Civil Engineering
Venue:                                    Conference Hall, BBD University, Lucknow.
Description:
A Guest lecture was organized by Civil Engineering  department, SOE, BBD University on Thursday, dated 04/4/2019 based on Topic: "Lucknow Metro, A dream come true"(Discussion on various aspects of civil engineering in Metro Construction).
 The Guest Lecture was delivered by Mr.  Sushil Kumar, Director of Operations, Lucknow Metro Rail Corporation Ltd.
Guest Lecture basically was for discussing roles of Metro in Today's world. Various aspects of civil engineering in Metro constructionwas discussed under this lecture. The lecture also focused on various latest trends and modern Construction Techniques and Construction  materials used in Metro construction. Safety measures for both engineers and other workers was  also discussed during the Lecture.
The topics covered in this guest lecture are as follows:
 Metro Construction:
Tunnel Construction
Simulation Techniques in Metro Construction
Deck slab Construction
Modern Techniques in bridge Construction
Underground Metro Construction
Introduction to the Modern Construction Materials and practices used
Discussed How to deal with various Challenges faced by Engineers During Metro Construction
Safety Measures for Engineers, Workers and passengers
Discussed various Career opportunities for students in upcoming Metro projects.
Also guided Students how to prepare themselves to today's scenario of Metro construction and various tools, software and other technical skills that are important for them from  their career perspective.
The welcome speech to the dignitary and students was delivered by the Welcome Team, Dean School Of Engineering Prof(Dr.) ApurvaAnand, Mr. ShubhranshuJaiswal (Departmental Incharge) on the behalf of Head of Department of Civil Engineering, BBD University. At last vote of thanks was also given by Mr. Mohd. Afaque Khan, Asst. Professor, Department of Civil Engineering,  BBD University, Lucknow
Co-ordinator(s):
Mr.KamalNabhTripathi, Asst. Professor, Department of Civil Engg. BBD University, Lucknow
Mr. Mohd. Afaque Khan, Asst. Professor, Department of Civil Engg.  BBD University, Lucknow